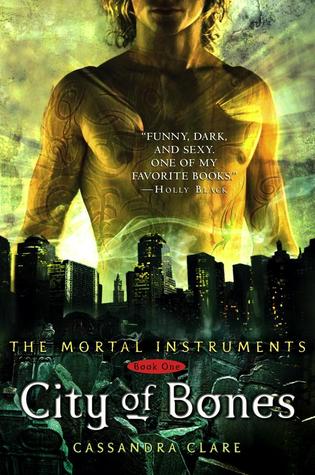 Title : City of Bones (The Mortal Instruments #1)
Writer: Cassandra Clare
Number of Page : 485
Publisher : Margaret K. Mcelderry Books
When fifteen-year-old Clary Fray heads out to the Pandemonium Club in New York City, she hardly expects to witness a murder -- much less a murder committed by three teenagers covered with strange tattoos and brandishing bizarre weapons. Then the body disappears into thin air. It's hard to call the police when the murderers are invisible to everyone else and when there is nothing -- not even a smear of blood -- to show that a boy has died. Or was he a boy?

This is Clary's first meeting with the Shadowhunters, warriors dedicated to ridding the earth of demons. It's also her first encounter with Jace, a Shadowhunter who looks a little like an angel and acts a lot like a jerk. Within twenty-four hours Clary is pulled into Jace's world with a vengeance, when her mother disappears and Clary herself is attacked by a demon. But why would demons be interested in ordinary mundanes like Clary and her mother? And how did Clary suddenly get the Sight? The Shadowhunters would like to know...
In my opinion:
At first, I didn't really want to read these series. But every time I went to bookstore, I saw this book put in the front shelf. The metallic cover was so eye-catching and made me want to check it all the time. However, I still could resist the urge to buy it.
Until I saw the movie trailer. Yeah, this book will be adapted into TV series. I'm always interested in books which are adapted into film. And unfortunately Popular Bookstore offered a damn good discount. Again I committed a sin, buying books while the to-read piles were still high.
When I opened the first page, I was so excited. It is the first young adult fantasy novel I read which uses the third POV. I'm bored with first POV because I can't get to know the other characters well enough. Therefore, for me this book is quite refreshing.
The world of Clary Fray (or Cassandra Clare? I noticed the names are almost similar) was quite interesting. Demons, vampires, werewolves, and many other paranormal creatures appeared in this book. Clary herself was a Shadowhunter who had duty to hunt demons. She didn't know about her ability because her mother asked someone to erase all the odd memories that Clary had. If Clary never saw the demon slaughter in the Pandemonium Club, she would never know that she was not human.
One thing led to another. Clary's mother was abducted by demons. Clary knew it was impossible to ask Simon for a help because her best friend couldn't see demons. She could only rely on Jace and his Shadowhunter friends to find her mother.
Most pages told about the flat boring journey to find the great evil Valentine who kidnapped Clary's mother. Clary also learned a lot about her own identity. And of course, romance. Triangle love again. Jace-Clary-Simon. It was pretty obvious that Clary would choose the bad boy Jace.
The boring adventures were paid with the shocking truths at the end. I liked that Cassandra Clare brought up a lot of characters and wrote their life histories. I enjoyed Luke's background the most. His kindness and his loyalty were kinda sad. Oh, there was a revelation about Jace's real parents. What a surprise!
This book had many potentials. The story and the fantasy setting were very good. But, the characters were horrible. The problem about third POV is that writers need to pay attention to every characters and
their personalities. I know it's hard to make three dimentional characters with so many things going on in the book. But, characters are the souls of every novels. Making them memorable is very important, especially the main characters. Clary and Jace were seemed not real to me. They talked and popped on smart dialogues and I kept thinking they were empty. I knew there were many scenes with interesting conversations. I liked the scene in the garden where Jace showed flowers to Clary. The scene was full of emotion. But since the characters were bland, I couldn't enjoy it immensely. Moreover, Jace suddenly became less wild and tame after he met Valentine. Like he was somebody else entirely.
Still I will continue to read the next book. I'm quite intrigued with the world that Cassandra Clare creates.
3/5